MultilingualWeb has just announced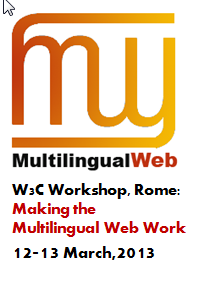 the detailed programme of 6th W3C Workshop in Rome, 12-13 March, 2013.
We are eager to get the news of the  keynote presentation on 'Innovations and Internationalization at Google', as these developments might influence the future of the whole translation industry.
The MultinationalWeb community is one of the most important organisations in Europe, which promote the best practices and standards of making the multilingual web work. Their workshop series is highly popular among whose intention is to resolve the gaps that keep the internet from living up to its global potential.
Come and meet our team in Rome, Balazs Benedek and  Peter Farago, who present Easyling, the proxy based Website Translation tool on the event. Read more abstract in the Posters category.
Dedicated demo for You
Tweet